Fruitful collaboration
More about scarves
The shawl is a gift. By giving it, the giver wants to tell something to someone, "I give this unique shawl to my...". For the receiver it is a way of expression. Depending on how the shawl is folded, emphasis is on either the alliterating typography or the decorative leaves. A new image every time as personal gift. To someone. Or to yourself. The scarves are hand made in a limited edition.

Scarf: 'Wonderful Woman', 'Lovely Lover', 'Marvelous Mother' and 'Fabulous Friend'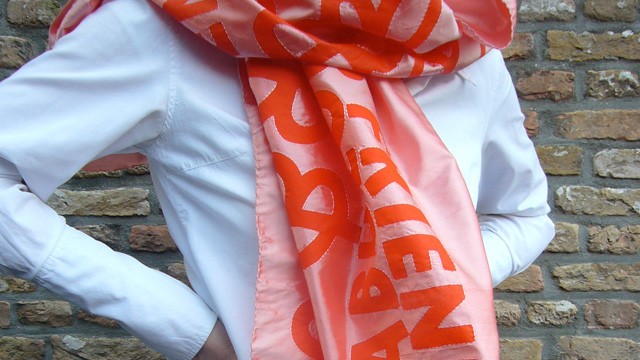 The scarves of Generous Gesture are always a gift; either to yourself or to someone else. A vibrant combination of color, ornaments and/or typography, they can be worn in many different ways.The shawls are produced in block-print, provided with an embroidered frame, the material is silk, or a combination of silk and eco cotton. The shawls are made of Rajshahi Bengali silk, woven by the shot or changeant technique. If the fabric moves the color changes and is continuously different. The clarity of the colors is extraordinary!



Scarf 'Gentle Gent'

These scarves are embroidered by hand. Double layered fabrics of silk and cotton. They measure 12 x 65 inch (30 x165 cm). The silver colored silk is made of the best Rajshahi Bengali silk. The off-white cotton is eco friendly produced.

The scarf says 'Gentle Gent' in Latin (English) and in Bengali. Jo de Baerdemaker a typedesigner from Belgium was very helpful with the Bengali type. Visit www.typojo.com to learn more about his work.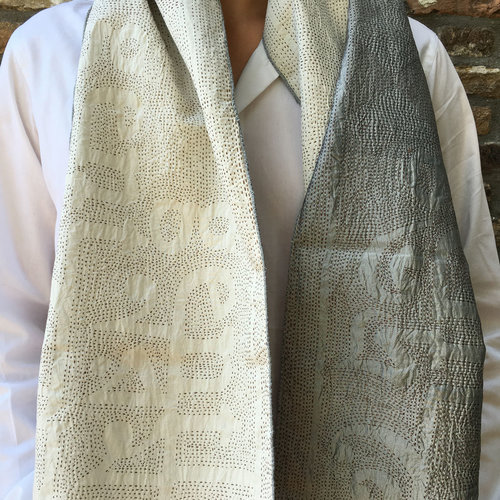 Wash instructions
Handle with love and care. Wash gently by hand in hand-warm water with detergent for silk. Ironing. Do not bleach, no tumble-dry.